Wonderfil Dazzle
is een draad van Rayon met een metallic draadje er door heen .
Kenmerken:
de draad bestaat uit 3 draadjes,
zit op een plm. 182 meter spoel
voelt zijdeachtig aan
heeft ongeveer de dikte van Cordonnet 10
en is geschikt voor:
Frivolite (met spoel, danwel met de naald)
Haken
Breien
kralenwerk
kantklossen
Mararethenspitze
couching
Sashiko
en vast nog veel meer toepassingen!
Op dit moment zijn er 34 kleuren van dit garen:
De spoelen met 182 meter zijn grote klossen, die niet door de brievenbus passen. Deze spoelen
staan onder artikelnummer 36.5002 in de webshop
A sturdy 6-ply thread, Dazzle™ is comparable in weight to a #8 perle cotton. This is 100% rayon and metallic mix carries a naturally bright lustre with a silky finish, making it an excellent choice for crafts, crochet, knitting, tatting, and highlighting the details on dimensional stitches. Because of Dazzle's™ light reflective properties and "pop" of metallic, the detail on wool appliqué and layering can be enhanced with edging stitches for that extra sparkle.
article-number in the webshop is 36.5002 for 182 meter-spool.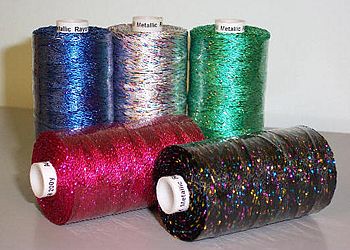 Hieronder de kleuren:
(let op: de kleuren van de werkelijke garens kunnen wat afwijken, dit door technische achtergronden van het computer/internet gebruik)




27: Orange




39: Fuchsia




42: Raspberry


45: Boysenberry


50: Dark Blue


68: Sea Foam Green


120: Lavender


124: Purple


137: True Blue


160: Black/multicolor


280: Grass Green


328: Golden Brown


330: Acorn Brown


538: Dk. Turquoise


566: Forest Green


909: Molasses

938: Lemon Yellow


941: Bluegrass Green


984: Dk. Peach


1000: Gold


1147: Christmas Red


1201: Baby Pink


1267: Tomato Red


2000: Silver


2108: Pumpkin


2118: Sunny Yellow


2202: Baltic Blue


2235: Avocado


2514: Coral Rose


6230: Nutmeg


7102: Ecru


7148: Midnight Blue


8201: White


9000: Black/Black
Voorbeeld met dit garen: