Wonderfil Razzle
Razzle Rayon Thread has a wonderful selection of colors & the applications are only limited by your imagination!
3 ply - 250 yard spools
rayon crochet thread

46 rayon colors

high natural sheen
silky hand feel
comparable to no. 8 crochet cotton
Applications:
crochet
knitting
coarse tatting
decorative stitching
beadwork
tassels & fringes
bobbin lace
bobbin work
couching
Sashiko (Japanese quilting stitch)
top stitching
and more!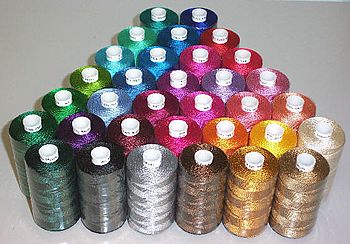 Here is the colorcard:
(Please note that the actual colors can be slightly different then they appear on you're computerscreen)

Lemon Yellow

Sunny Yellow

Pumpkin

Orange

Baby Pink

Peony

Fuchia

Coral Rose

Magenta

Boysenberry

Tomato Red

Dark Red

Raspberry

Lavender

Purple

Sea Foam Green

Grass Green

Foliage Green

Brilliant Green

Ever Green

Forest Green

Avocado

Bluegrass Green

Light Country Blue

Medium Country Blue

Baltic Blue

True Blue

Light Turqoise

Dark Turqoise

Mediterranean Blue

Dark Blue

Light Peach

Dark Peach

Ecru

Sandalwood

Golden Brown

Acorn Brown

Nutmeg

Molasses

White

Light Grey

Dark Grey

Black